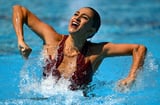 Two-time Olympic swimmer Anita Alvarez, who was rescued by her coach after fainting during the FINA World Aquatics Championships in Budapest, Hungary, shared about the incident on her Instagram today. In a caption that began "What a year…", the artistic swimmer for Team USA described dealing with bone fractures, foot surgery, and COVID since returning from the 2020 Tokyo Olympics. "And well we all know what happened next . . ." she continued.
Alvarez is likely referring to June 22, when the athlete reportedly lost consciousness and started to sink shortly after finishing her solo routine at the event. Luckily, her coach, Andrea Fuentes, noticed Alvarez and acted quickly, diving into the pool while still fully clothed to save the athlete. In a statement via USA Artistic Swimming's Instagram on Wednesday evening, Fuentes shared that Alvarez had been monitored by doctors and "feels good now."
"[W]e push through limits and sometimes we find them."
"Anita is okay – the doctors checked all vitals and everything is normal: heart rate, oxygen, sugar levels, blood pressure, etc . . . all is okay," said Fuentes, who's won four Olympic medals for synchronized swimming. "We sometimes forget that this happens in other high-endurance sports. Marathon, cycling, cross country . . . we all have seen images where some athletes don't make it to the finish line and others help them to get there. Our sport is no different than others, just in a pool, we push through limits and sometimes we find them."
Despite the medical emergency, Alvarez finished seventh in the solo free event and, according to Fuentes, delivered "her best performance ever." USA Artistic Swimming also reported Alvarez "will continue to be monitored" as the swimmer and medical staff decide whether she will be able to compete in the team final on Friday.
In a similar event last year, Alvarez lost consciousness at the end of a routine with her partner before Fuentes dove in to rescue the swimmer. "Sometimes people pass out because our job is to discover our limits," the coach said in an interview with "Good Morning America." "That's what we do as athletes."
And in her June 27 Instagram post, Alvarez seemed to further address some questions she may have been getting about her health following the incident. "With the information we have, my health is good and I am feeling much better today and that is most important," she wrote, continuing: "For everyone concerned that this just happens regularly and I am just pushing it aside because I don't take my health seriously is mistaken [sic]."
Alvarez continued to ask for privacy during this time. "This blast in the media of something so personal as my own health was a bit unsettling," she wrote. She assured her fans that she's gone through extensive testing and will continue to keep working with doctors until she has an answer of what exactly happened during her solo routine.
"Because this right here is my passion, it's what I live for, and I am still only.getting.started."
– Additional reporting by Melanie Whyte
Source: Pop Sugar