This has been a crazy time for a lot of us, and we hope that if you're working on the front lines or staying at home, you're staying as safe and healthy as you possibly can. Amidst all of this craziness, everyone seems to be taking solace in getting creative and cooking new recipes with the pantry foods they have at home. We know how hard it can be to come up with a fresh, new, and delicious dish, so we've enlisted the help of our friend Chef Marlene Bernstein to come up with an easy, yet incredibly flavorful recipe. Today, she's sharing her Vegan Sesame Noodles, which are made with pantry staples you might already have in your kitchen. Marlene includes a few optional ingredients if you have those lying around, but if you don't, that okay. Feel free to swap in any other foods you have on hand. Keep reading to see how to make this easy, no-fuss vegan recipe…
Vegan Sesame Noodles
Ingredients:
1lb of Spaghetti
1 Bag of Frozen Edamame
1/4 Cup of Sesame Oil
1 Tbsp Toasted Sesame Oil
1/8 Cup Rice Vinegar
1/4 Cup Tamari
1/8 Cup Sriracha
1 Carrot
1 Packet of Firm Tofu
2 Cloves of Garlic
Corn Starch
Salt
Olive Oil
Optional:
1 Red Bell Pepper
1 Bag of Bean Sprouts
1 Bunch of Scallions
Black or White Sesame Seeds
Lime
Spice Blend Mix to Season Tofu: 1 ½ Tbsp Paprika, 1 ½ Tbsp Chili Powder, 1 Tbsp Coriander, ½ Tbsp Oregano, ½ Tbsp Cumin, ½ Tbsp Garlic, 1 tsp Basil
Cilantro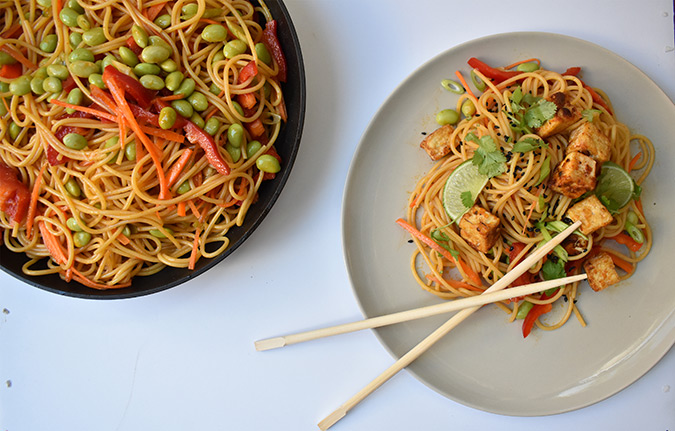 Instructions
Bring a large pot of water to a boil. Salt the water very well.
While the water is coming to a boil remove tofu from its packaging at pat dry. You want to remove as much excess water as possible. You will find that the tofu is a little thick so lay it on its side a slice it down the middle lengthwise. Pat down once more to again remove any excess water and then cut 4×5 into squares. If you would like to add a little spice to your tofu at this time mix together: paprika, chili powder, coriander, oregano, cumin, garlic, and basil. Place your tofu in a small bowl and sprinkle 1 Tbsp of your spice blend over your tofu and gently toss. Then in a separate bowl toss your seasoned or plain tofu (if you decided you didn't want the extra spice) with corn starch until it is lightly covered all the way around. Set aside.
Once the water is boiling drop the pasta in and cook for 7 minutes. Occasionally stir to make sure the pasta does not stick together or to the bottom.
Prep whatever vegetables you have selected for your sesame noodles. Cut the bell pepper and the carrots into nice long, thin julienne cuts (approximately 1/8in x 1/8in x 2 in). Next, rinse your edamame using a fine mesh strainer underneath warm water until defrosted. Finally, cut your scallions thin and on a sharp bias so you have a really beautiful, edible garnish for your sesame noodles.
While the pasta is cooking prepare your sesame noodle sauce in a small bowl by mixing together: tamari, rice vinegar, sesame oil, Sriracha or chili paste. Set aside.
Grab your sauté pan and place over high heat. Add olive oil and sliced or smashed garlic to your pan. Allow garlic to infuse into the oil until it is golden. Then remove the garlic from the pan and add tofu. Allow tofu to form a nice crispy crust on all sides. Season with salt.

Once the timer for your pasta goes off. Strain the pasta into a colander and run cold water over the pasta to stop the cooking process then toss with a little olive oil so it does not become sticky.  Place the spaghetti into a bowl and toss with ½ Cup of the sesame noodles sauce you set aside earlier. Taste the noodles. If you would like the flavor to be a little stronger then add more of the sauce.

Next, mix your prepped vegetables into your sesame noodles, reserving some for garnish.
Now you are ready to plate. Place some of your sesame noodles on your plate and garnish with sesame seeds, extra julienne carrots, scallions and bell peppers. If you have some fresh lime and cilantro you can add that too, it adds a nice brightness and color to the dish. Finally, top with your crispy tofu and enjoy!
Will you make this recipe at home?
Let us know how your dish turns out in the comments below. If you'd like to learn more about Chef Marlene, you can view her website here and her Instagram here.
XO Team LC
Affiliate links may have been used in this post.
The post Vegan Sesame Noodles appeared first on Lauren Conrad.
Source: Lauren Conrad