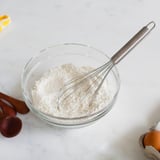 Looks like cornstarch, thickens like cornstarch . . . definitely isn't cornstarch!
If you don't know about it already, it's time to get to know arrowroot powder – also known as arrowroot starch – the gluten-free, Paleo, vegan thickener and baking additive. And it's in more foods than you'd think!
Arrowroot is made from the rootstock of the arrowroot plant, which grows in the tropics. It's said to have a more neutral taste than cornstarch, and is used as a thickener for puddings, sauces, and jellies (yay, vegan jelly!); made into glazes; and baked up into things like pecan pie bars and vegan, gluten-free Girl Scout cookies.
Why arrowroot versus cornstarch? Aside from the more neutral taste, arrowroot is also one of the easiest starches for the body to digest. You can use it at lower temperatures than you can cornstarch, too. However, if you're cooking with dairy, avoid arrowroot at all costs – the combination has been known to create a slimy consistency.
Lastly, arrowroot powder boasts some hefty nutritional and medicinal benefits in terms of naturopathy – it's high in potassium, iron, and B complex vitamins, can fight pathogens in food (to protect you from illnesses), boost your immune system, assuage digestive woes, and has even been said to fight urinary tract infections.
Source: Pop Sugar