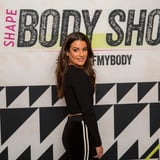 If there's one thing we've learned about Lea Michele, it's that her approach to eating healthy is simple and satisfying. During a recent Facebook Live discussion with Shape magazine, Lea shared that she keeps her diet clean by stocking her home with wholesome eats. However, that doesn't stop her from enjoying her favorite comfort foods.
We caught up with Lea at the Shape Body Shop event in New York City, and she shared that like most of us, she finds it hard to not indulge during the Fall. "I absolutely love soup in the Fall," she said. "When I feel like indulging I definitely always have a bowl of soup with grilled cheese. You cannot go wrong with that combination."
Lea revealed that she tries to maintain regular healthy eating habits, but she doesn't believe that you have to completely cut off foods you typically enjoy. "I always try to ask myself how I can take something I really love and make it healthy. When I want something on the healthier side, I always go for a quesadilla."
Lea's go-to quesadilla recipe is also super easy to whip up at home (even if you're vegan!). Instead of packing up on meat and cheese, she opts for a ton of veggies in a gluten-free or spinach tortilla, topped with vegan cheese, salsa, and guacamole. "I love that you can fill quesadillas with anything and still feel full," she said. "You also get that feeling of eating an authentic quesadilla, even if you make it with healthier ingredients, which is super important to me. So always find wholesome ways to enjoy your favorite comfort foods."
But the one flavor you won't catch Lea indulging in for Fall (or anytime soon)? Pumpkin spice. "I feel like the only girl in the world that hates pumpkin spice, but I just can't do it. I'm a black coffee kind of girl with no cream and no sugar. Not only is it too sweet but it just ends up hurting my teeth. However, if you give me cheesy-anything, I'll eat it like there's no tomorrow. I'm definitely a sucker for snacking on string cheese." Same, girl. Same.
Source: Pop Sugar