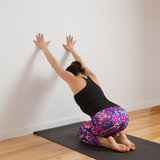 Suffering from tight shoulders and a stiff neck? Whether it be from a stressful job or a kick-ass weight training session at the gym, this stretch is sure to bring some instant relief.
Kneel down in front of a wall. If this bothers your knees, kneel on a folded blanket or towel. Spread your knees wider than hips-distance apart.
Extend your arms overhead and place your forearms on the wall.
Allow gravity to pull your torso toward the floor. It's OK if your head rests on the wall as well. If you're not feeling this in your shoulders and neck, inch your knees further away from the wall.
Breathe deeply for 30 seconds and then release.
Source: Pop Sugar