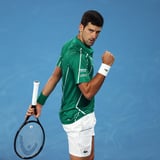 Leading up to the first Grand Slam of the tennis season, fans had a question for organizers: will Novak Djokovic play at the 2022 Australian Open? After all, he declined to reveal his COVID-19 vaccination status, and full vaccination is a requirement for players unless they are medically exempt. Now, the answer is official. The world No. 1 and nine-time Australian Open singles champ hopes to defend last year's title following a medical exemption.
However, the UK's The Times reported that Djokovic was denied entry into Melbourne, Australia, as of Jan. 5 due to a mix-up with his visa application, where a member of his team requested a type of visa that doesn't apply to people who've received COVID vaccine medical exemptions. Jaala Pulford, acting Victorian sports minister, tweeted, "We will not be providing Novak Djokovic with individual visa application support to participate in the 2022 Australian Open Grand Slam. We've always been clear on two points: visa approvals are a matter for the Federal Government, and medical exemptions are a matter for doctors."
Tournament officials said in a Jan. 4 media statement that Djokovic's application for a medical exemption was granted approval by two independent panels – a panel of "immunology, infectious disease and general practice" doctors and the Independent Medical Exemption Review Panel appointed by the Victorian Department of Health. Applications were only approved if they met Australian Technical Advisory Group on Immunisation (ATAGI) guidelines. According to the same media statement, it's protocol that personal info be redacted from these medical exemption applications for privacy.
Djokovic, who tested positive for COVID in June 2020, has criticized vaccine requirements for tournament play in the past. It's unclear what the exact reasoning for his medical exemption is as of this article's publishing. POPSUGAR reached out to Tennis Australia for further details, and the governing body sent the aforementioned media statement.
Tennis Australia CEO Craig Tiley did clarify the following day that, based on ATAGI guidelines, expert panels would grant exemptions to players who are proven to have anaphylaxis reactions to vaccines, had major surgery "and may or may not be suffering from myocarditis," or had evidence of COVID over the past six months. He also said that Tennis Australia is "not at liberty" to publicly disclose any medical information related to player exemptions. Pulford stated that no one "is or will be receiving special treatment."
"I've spent fantastic quality time with loved ones over break & today," Djokovic originally wrote on Twitter and Instagram when news of his medical exemption came out. "I'm heading Down Under with an exemption permission. Let's go 2022!"
Happy New Year! Wishing you all health, love & joy in every moment & may you feel love & respect towards all beings on this wonderful planet.

I've spent fantastic quality time with loved ones over break & today I'm heading Down Under with an exemption permission. Let's go 2022! pic.twitter.com/e688iSO2d4

– Novak Djokovic (@DjokerNole) January 4, 2022
It remained to be seen whether Djokovic would compete at the Australian Open this season because though he was included on the Australian Open entry list in December, Tiley clarified on News Breakfast at the time that "everyone goes on the entry list," and that it is "not a commitment list about who's exactly in the draw." He also noted that anyone can apply for a medical exemption, but no one is automatically granted that exemption.
The 2022 Australian Open starts on Jan. 17.
Source: Pop Sugar