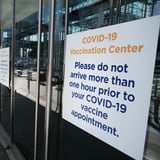 As colder weather comes our way, more people will be spending time indoors in enclosed spaces, where COVID can easily spread. To protect against the expected seasonal surge of COVID cases and reduce related deaths, the Centers for Disease Control and Prevention now recommend COVID omicron booster shots for kids as young as 5, per NPR.
"Since children have gone back to school in person and people are resuming pre-pandemic behaviors and activities, there is the potential for increased risk of exposure to the virus that causes COVID-19," Peter Marks, MD, PhD, director of the Center for Biologics Evaluation and Research (CBER) at the FDA, said in a statement. While cases have been historically less severe in children, as new waves of variants pass through, more children have been hospitalized and may experience long term effects. He continued, "We encourage parents to consider primary vaccination for children and follow-up with an updated booster dose when eligible."
The COVID-19 boosters have been reformulated to be more effective against the highly contagious omicron subvariant BA.5, which is responsible for almost 90 percent of new cases, in addition to the original strain.
Pharmaceutical companies began work to manufacture new booster shots targeting subvariants BA.4 and BA.5 after the FDA advisory committee voted on June 27 to recommend an omicron-specific update to COVID-19 booster vaccines. Pfizer said it will ship up to six million booster doses for kids within the next week, according to a company statement, per CNBC.
Who Is Eligible For a COVID-19 Booster Shot?
Pfizer's new boosters were previously green-lit in September for ages 12 and up, while Moderna's boosters were reserved for adults (18 and up). As of Oct. 12, however, the CDC recommends that everyone age 5 years and older should get their omicron booster after completing their COVID-19 vaccine. Specifically, children ages 5 to 11 are eligible for Pfizer's omicron shots, and those age 6 through 17 are eligible for Moderna's shots two months after receiving their primary series or previous booster with the first generation vaccines.
Adults 50 years and older, as well as people who are moderately or severely immunocompromised, should get the second Pfizer-BioNTech or Moderna booster. For immunocompromised children and teens age 12-17, it's encouraged to get a second booster of Pfizer-BioNTech, but note that Moderna is not recommended for this group. The recommended wait period between first and second boosters is at least four months.
Important to note is that Johnson & Johnson's Janssen (J&J/Janssen) COVID-19 vaccine cannot be used as a second booster dose. The FDA officially approved "mix-and-match" COVID-19 boosters so people can get booster shots that differ from the vaccine they received originally.
If you are immunocompromised or have a history of severe reactions to the COVID-19 vaccine, you may also be eligible for Evusheld, a medicine given by your healthcare provider to help prevent you from getting COVID-19.
To figure out when you should receive your booster shots, you can use the CDC's COVID-19 booster tool.
– Additional reporting by Maggie Ryan, Melanie Whyte, and Sara Youngblood Gregory
Source: Pop Sugar