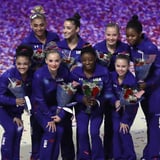 The crowd went wild in the San Jose, CA, arena as the women's gymnastics team was announced last night under falling confetti made up of our national colors. And for good reason – two Olympic veterans will headed to Rio as the team defends its gold medal won in London back in 2012. Plus, according to the Team US website, this is one of the "most decorated and competitive women's gymnastics teams ever." The USA team has experience on its side, as well as some amazing tumbling and big vaults.
Meet your competitors:
Simone Biles, age 19
Gabby Douglas, age 20
Laurie Hernandez, age 16
Madison Kocian, age 19
Aly Raisman, age 22
As the all-around winner of the Olympic trials, Simone Biles was automatically guaranteed a spot on the team, but her four teammates were selected by the committee, which looks to create a well-rounded team that can compete strongly in the four events – vault, uneven bars, balance beam, and floor. The results of last night's competition are factored into the committee's decision, but the history of each gymnast, as well her strength in each the four events, is considered as well. And, aside from a few mistakes and a couple of falls off the beam, this team looks solid and ready for Rio.
Three replacements were announced as well: Ashton Locklear, MyKayla Skinner, and Ragan Smith.
Source: Pop Sugar