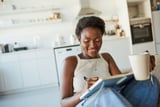 Practicing mindfulness and achieving an inner-zen is (admittedly!) much easier said than done – especially these days with so many different distractions right at our fingertips. Oftentimes, it can feel impossible trying to block out all of the outside noise and find the time to truly sit with ourselves, our emotions, and even our thoughts. Therapy and other recreational activities like yoga are great tools for helping you to practice peace and gratitude on the daily. But if you're looking for something simpler to do at home that can help you start your day off on the right foot, self-care and gratitude journals are also a great alternative to turn to – especially for those looking to embrace the new year with a fresh set of resolutions!
You don't need more than a pen and paper to practice journaling and reap a variety of stress-relieving, mindfulness-promoting benefits. But, guided journals specifically catered to self-care, wellness practices, and gratitude with prompts and insightful exercises may help you keep the habit. They also make beautiful, thoughtful, and caring gifts for any loved ones who are motivated to be their best selves, as they help to ease anxiety and promote more gratitude on the daily.
From self-care journals and document positive affirmations to planners that track your daily to-dos, feelings, and even eating or spending habits, there are so many thoughtful self-care and gratitude journals out there that double as the perfect gifts to give (and receive!) this season – because your own self-care deserves your attention, too. Shop our favorites ahead!
– Additional reporting by Jenny Sugar
Source: Pop Sugar