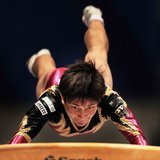 Women's gymnastics is a sport of young women. Very young women: you must be 16 years old to compete in the Olympics. Remember the scandal at the 2008 Summer Games about underage gymnasts? To state the obvious, the sport is hard on the body, and many medalists are "one and done" when it comes to participating in the games.
Defying all these trends is my new hero, 40-year-old Oksana Chusovitina. At 40, I was barely able to touch my toes! She just qualified to compete in Rio – her seventh Olympics games – which would set a world record for the oldest female gymnast ever to compete. She'll be representing Uzbekistan on vault.
In her first games, way back in Barcelona in 1992, she won team gold with the Unified Team, comprised of newly independent former Soviet Union Republics. She was only 16. In the 2008 Beijing games, Oksana won a silver medal for vault competing for Germany. After the 2012 London Games, she said she was planning to retire, but clearly plans have changed! I can't wait to see her compete in August.
Source: Pop Sugar