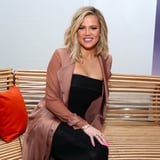 Everyone has their kitchen's must-have items. Our friends at Shape got the inside scoop on Khloé Kardashian's go-to grocery list.
Maybe it's just us, but seeing what the Kardashians eat (and what they keep in their meticulous fridges) is a truly fascinating aspect of KUWTK. Well, now Khloé is giving us the inside scoop, sharing her nutritionist's recommendations for stocking your fridge and pantry on her app. (You can go inside her crazy fitness closet, too.)
While it's doubtful Khloé actually uses this grocery shopping list herself, they're at least the ones her assistant is buying on the reg! Below, her nutritionist, Philip Goglia, Ph.D., whose clients also include everyone from Ryan Gosling to Emilia Clarke, according to this website, shares what Khloé (and presumably some of this other A-list clients) always have on hand for a quick and healthy meal or snack. (Note: You won't see any dairy on the list since as Khloé told us in her cover interview, giving up dairy 'totally changed' her body.)
1. Cans of Albacore Tuna
"This is the ideal emergency food for those 'Oops I don't have any meat to cook for dinner or lunch' moments. You can use a can of tuna in salad or over veggies. It's an ideal source of high quality, low-fat protein," Dr. Goglia says. Just make sure to buy the cans that are in water not oil, and if you're concerned about the sodium content, rinse it in water before eating, he suggests.
2. Squeezable Fruit Packets
While Khloé is a big fan of fresh fruit smoothies (this one looks pretty amazing), she also apparently always has squeezable fruit packets on hand. "This are a tasty alternative to fresh fruit if you're on-the-go. They have an awesome shelf life and don't rot or bruise like whole fruits," Dr. Goglia says (a.k.a. they're totally gym-bag friendly.)
3. Chicken and Fish
Khloé has shared that her go-to lunch is chicken salad, and her go-to dinner is steamed veggies and chicken, so clearly she always has chicken on hand. Dr. Goglia recommends buying boneless, skinless breasts and for fish, something fatty like salmon, sea bass, or black cod. "Buy enough to cook in advance for a few days at a time so that you always have cooked protein on hand in the fridge." (Here, more meal prep ideas to go beyond chicken and rice.)
4. Tortilla Wraps
"If you're stuck for a starch option and are out of potatoes or rice, I like to add a tortilla to my meals. Wraps store well and are quick and convenient." (We recommend whole-wheat tortillas. Since most of the carbs are complex, so you don't have to worry about a spike in blood sugar levels.)
Check out more great stories from Shape:
Source: Pop Sugar