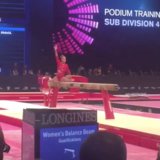 There's a reason gymnastics is one of the top three most watched Olympic sports: it's hard as hell, and observers know it. Starting from a very young age, gymnasts push their bodies to the limit in training, and even after years of perfecting their art, only the best of the best make it to the Olympic level. Eighteen-year-old Marisa Dick, a Canadian-Trinidadian Olympic hopeful, knows this all too well. But if her latest accomplishment – inventing a brand-new gymnastics move – is any indication, she won't have trouble making it to the Summer 2016 Olympic competition!
The new move, a tricky transition from the springboard to a balance-beam-mounted split, has officially earned the approval of the gymnastics community – it has been added to the gymnastics Code of Points that is used for judging competitions (including the Olympics). Deservedly named after its inventor, the "Marisa Dick" is a move that you can now expect to see in gymnastics competitions all over the world. However, based on a celebratory Instagram video showcasing the rigorous practice required for Marisa to perfect the move, there will be more than a few flubs! (Practice makes perfect, right?)
Check out Marisa's video below, and remember all the hard work she put in when you finally see the "Marisa Dick" in competition. Girl power!