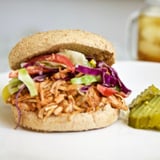 Juicy, BBQ "fruit-meat" sandwiches? Yes, please! Were you a fan of Wrigley's Juicy Fruit chewing gum as a kid? I sure was. Oddly enough, as a child, I never questioned what fruity flavor the gum was meant to mimic. It wasn't until I found myself tasting the tropical fruit at a farmers market while honeymooning on Kauai that I learned the rumored source of that magical mystery flavor – jackfruit!
Related: Get to Know the Jackfruit – You're Gonna Love It
WTF is a jackfruit? Native to South and Southeast Asia, tree-grown jackfruits are about the size of overgrown watermelons, but misshapen, with alien-green, spiky skin. Inside is a light yellow flesh with a taste and texture that's similar to a pineapple, but a bit blander and banana-like. When cooked, the taste becomes milder and the texture becomes softer and chewier.
Jackfruit is all the rage in the vegan foodie world right now. Why? It's a surprisingly awesome meat substitute. When simmered, its natural texture is spookily similar to chicken or pulled pork. Plus, unlike tofu and tempeh, it sucks up tasty marinades and sauces like a sponge. What's more? It's naturally gluten- and soy-free and high in potassium, fiber, vitamin C, magnesium, and vitamin B6 – which can be a difficult vitamin for vegans to come by.
Because of these qualities, jackfruit creations are wildly popular at trendy vegan eateries, starring in dishes as diverse as jackfruit nachos, curry jackfruit, and perhaps its tastiest incarnation – the crave-worthy BBQ jackfruit sandwich (read on for our version).
Getting your hands on fresh jackfruit in the US is no easy feat, but luckily, it's easy to source canned jackfruit online. To use as mock meat, you'll want to get "young" or "unripe" jackfruit that's packed in water rather than syrup or brine. The popular vegan brand Upton's Naturals now sells original and flavored jackfruit (including barbecue), which you can buy online or at your local health food store.
Are you ready to taste-test this exotic "fruit meat" in your own kitchen? Our killer recipe for BBQ jackfruit and rainbow slaw sandwiches takes less than 30 minutes to make.
The jackfruit simply gets simmered to perfection in your favorite BBQ sauce, spooned into a hamburger-style bun, and topped with a seriously addictive, homemade, crunchy-creamy rainbow slaw. This rainbow slaw is so colorful, it's almost too pretty to eat. Heat-lovers: feel free to spike the slaw with thinly sliced jalapeños for added kick. Lazy cooks: if you want to make the recipe even easier, you can always swap out the rainbow slaw for your favorite store-bought coleslaw.
Try this recipe once, and we swear you'll want to make it again and again.
Jolia Allen
BBQ Jackfruit and Rainbow Slaw Sandwiches
Ingredients
For slaw:

1/4 small purple cabbage, thinly sliced (2 cups)

1/4 small green cabbage, thinly sliced (2 cups)

1 red pepper, thinly sliced (1 cup)

1 yellow pepper, thinly sliced (1 cup)

3 carrots, peeled and grated

3 green onions, finely chopped

1/2 cup sunflower seeds

1/2 jalapeño pepper, thinly sliced (optional)

3/4 cup vegan mayonnaise

2 tablespoons pure maple syrup

Salt, to taste

Pepper, to taste
For sandwiches:

3 14-ounce cans young green jackfruit

2 cups bottled barbecue sauce (I used Robbie's)

4 whole-wheat hamburger-style buns
Directions
For the rainbow slaw, combine purple cabbage, green cabbage, red and yellow peppers, carrots, green onions, and sunflower seeds in a large mixing bowl, adding jalapeno pepper, if desired. Add veganaise and maple syrup, then toss until well coated. Season with salt and pepper, as desired. Store in refrigerator until needed.
Rinse jackfruit in a colander. Break jackfruit into bite-size pieces, if necessary.
In a mixing bowl, combine jackfruit and barbecue sauce, stirring until well coated. Note: the jackfruit should be very saucy, so there is plenty of liquid for simmering.
Transfer jackfruit and sauce into a saucepan. Bring to a simmer over low-medium heat, stirring occasionally. Reduce heat to low, cover, and let simmer about 20 minutes, or until jackfruit is soft, stirring occasionally. When jackfruit is soft, use two forks to gently "pull" the fruit so that the texture resembles pulled pork.
To serve, fill hamburger-style buns with a generous helping of BBQ jackfruit, and top with rainbow slaw.
Information
Category

Main Dishes, BBQ

Yield

6 servings
Source: Pop Sugar