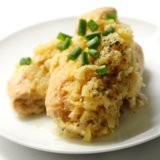 The following post was written by Rebecca Pytell, who blogs at Strength & Sunshine and is part of POPSUGAR Select Fitness.
Set your slow cooker and when you come home you'll be taking a trip to the tropics. Slow-cooker macadamia pineapple chicken is the perfect balance of sweet and savory with a tropical flare. A delicious and easy gluten-free Paleo dinner recipe.
I always tend to post "tropical-themed" recipes during the Winter, intentionally. Yes, the Winter is a time for comforting hearty stews and casseroles, but this time of year is also a time to give our taste buds a little tropical getaway when the Winter blues set in. The doesn't mean we have to drink ice cold smoothies or eat raw salads; we can still make a hot and hearty meal, just with a little more zing. And maybe the best part about all this . . . you get to use the slow cooker!
It really is getting colder now and going outside to the grill isn't very inviting. Even though slow cookers probably aren't being used much in a tropical paradise (people are just sipping martinis and daiquiris pool-side), there's no reason to keep the flavors away. Pineapple is always the first "tropical" element and flavor to come to mind. Nothing says paradise and relaxation more than a ripe juicy pineapple. Piña coladas, anyone? And when it comes to nuts, I'm pretty sure the #1 "tropical" nut would be the macadamia nut. Am I right? From the coasts of Australia to the shores of the Hawaiian islands, mac nuts are a decadent paradise indulgence.
I still remember the first time I ever had a macadamia nut. My mom brought home a small jar of salted mac nuts and she let my brother and I try one. They were so lovely, silky, and creamy! Too bad they were rather expensive and she didn't want my brother and I to eat them all on her. So she tucked them away in the pantry thinking we wouldn't find them. Well, I don't know about my brother, but I went on the hunt for them when my mom wasn't around. I remember sneaking one or two at a time, hoping she wouldn't notice. From then on, I always looked for mac nuts in the grocery, hoping to find them on sale and in a much bigger jar than the one my mom had gotten.
They are definitely not a nut I have often, if ever, but lucky for you and me, this recipe doesn't include expensive whole macadamia nuts, but mac milk! If you remember over the Summer I shared my Golden Kiwi Muffin recipe using mac milk, and I said I had another fabulous recipe using it. Well, here it is, ready to take you on another tropical trip! The silky creaminess of mac milk and pop of pineapple is another fantastic savory/sweet slow-cooker favorite of mine.
Tropical, slow-cooked, luscious chicken, anyone? Serve it with some rice and a nice salad and you'll be "mmm-ing" in your imaginary tropical paradise after a long day of work! No more Winter blues when you combine pineapple and macadamia together! Think of the slow cooker as your personal, all-inclusive resort, room service. It works, right?
Slow-Cooker Macadamia Pineapple Chicken
Ingredients
4 skinless chicken breasts

20 oz. (2 1/2 cups) crushed pineapple

1 cup unsweetened macadamia milk

1 teaspoon dried cilantro (or 1 tablespoon chopped fresh)

1/2 teaspoon ground ginger

1/2 teaspoon onion powder

1/2 teaspoon minced garlic

Chopped scallion (topping, optional)
Directions
In a large slow cooker, layer in the chicken and then pour in the rest of the ingredients over top, except the optional chopped scallion, and give everything a stir.
Set on low and cook for 6 to 7 hours until chicken is thoroughly cooked.
Serve with chopped scallion if desired.
Information
Category

Main Dishes

Yield

4
Source: Pop Sugar