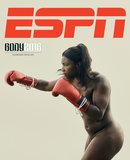 To say we are huge fans of the ESPN The Magazine Body Issue is an understatement. The annual issue celebrates athletes of all shapes and sizes, showing with authority that there is no such thing as an ideal body. By stripping down to their birthday suits, the featured pro athletes not only help to change conceptions of beauty and strength, but may even instill confidence in others struggling with body image.
"The Body Issue has evolved into a powerful storytelling platform," says Neely Lohmann, senior deputy editor and the executive producer of The Magazine's franchise issue. "Year after year, the athletes allow themselves to be completely vulnerable with our audience – not just in the photographs but with their interviews as well. This year we have athletes opening up in raw and moving ways about overcoming physical struggles: everything from asthma to HIV, amputation to transgender transitioning. It's an honor to tell their stories."
Keep reading for some of our favorite body-positive quotes from the annual issue's eight cover stars. Then be sure to look out for the Body Issue, which hits newsstands Friday, July 8.
Source: Pop Sugar