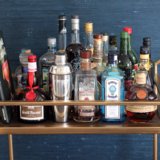 The weekend's right around the corner, and you may be celebrating with an after-work cocktail. But while happy hour can be much-needed bonding time, make sure you're not eating or drinking so much that your weekend calorie budget is over before Saturday has even begun.
Know your counts: Get to happy hour armed with knowledge; specifically, which calorie-laden cocktails you should be avoiding. This chart of the calories in popular alcoholic drinks should do the trick.
Choose a low-cal spirit: You don't have to stick to only vodka sodas, however. Ask the bar if they carry one of these low-calorie alcohol brands; just make sure you ask for a low-calorie mixer (some work well just on the rocks), so you can rest easy knowing the cocktail you're sipping on isn't full of empty calories.
Snack smart: The truffle fries may be a great price, but they're not the best option if you're trying to stay healthy. If you're hungry, opt for something high in protein and low in greasy fat, like a hummus plate or a shrimp cocktail, to keep calories low by filling you up until dinner. Check out more ways to save calories on happy hour bites.
Source: Pop Sugar