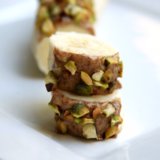 Sometimes simple is best – especially when it comes to food – and given how busy Julianne Hough finds herself, it's a rule the actress follows to a T. Between her acting gigs, promoting her activewear line, and squeezing in workouts, it's a wonder the Fitbit ambassador even has time left to eat. But the self-declared foodie always makes time for cooking and relies on snacks that are uncomplicated and easy to throw together.
Related: How Julianne Hough Balances Beauty and Fitness
Julianne's snack formula is pretty spot on and a neccessity for her busy lifestyle; the simpler the snack, the easier it will be to make – wherever you find yourself. Trust us when we say that it's really hard to find your favorite kale chips, chia seed pudding, or green smoothie when you're smack dab in the middle of nowhere. To avoid ever being left hungry, Julianne relies on the tried-and-true combo of almond butter and fruit (an apple or banana being her favorites). As far as we're concerned, the salty-sweet classic is a power snack, bringing together healthy fats, carbs, protein, and fiber. Most importantly, you can find the ingredients just about anywhere. And for those days when a snack needs to double for a minimeal, Julianne goes for something a little more filling: rice cakes with tomato, avocado, cucumber, salt and pepper, and sriracha. Because let's face it: sriracha makes everything better.
Source: Pop Sugar