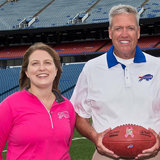 The Buffalo Bills just announced the appointment of Kathryn Smith as their full-time assistant coach – making her the first woman in that position in the history of the league. The exciting news of Smith's hiring also comes after Jen Welter made history when she was brought on as a training intern coach for the Arizona Cardinals in 2015 – though she now works as an analyst and motivational speaker.
According to ESPN, Smith had previously served as an administrative assistant to head coach Rex Ryan, both with the Bills and during his final season with the New York Jets in 2014. In a press statement, Ryan said, "She certainly deserves this promotion based on her knowledge and strong commitment, just to name a couple of her outstanding qualities." He also explained that her new role will be in the special teams unit.
The franchise congratulated Smith's promotion – and acknowledged its historic significance – in a series of Instagram posts. In one, Smith is quoted with saying, "It's a tremendous honor . . . I might be the first, but I don't think I'll be the only one for very long." Smith's story is an inspiring one that also illustrates the NFL's lack of gender diversity at the coaching level – hopefully in a manner that leads to additional changes like these.
Source: Pop Sugar