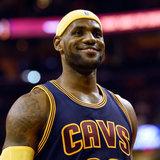 Whatever remaining doubt that LeBron James is this generation's Michael Jordan – however blasphemous that claim may be – might have just been squashed by the news that the 30-year-old NBA star just signed a lifetime deal with Nike.
Though the company wouldn't confirm the exact amount, the partnership is presumed to be the most expensive single-athlete contract ever and is the first of its kind for Nike – although rumor has it Jordan has his own de facto lifetime deal.
When speaking to reportors after practice on Monday, James expressed feeling humbled by the agreement. "I'm just grateful that Nike and [Nike founder] Phil Knight and everyone over there just believed in a skinny 18-year-old kid from Akron, OH," he said.
Considering the Cleveland Cavaliers forward just added a $21 million Brentwood, CA, mansion to his collection of abodes, this extra cash should definitely come in handy.
Source: Pop Sugar