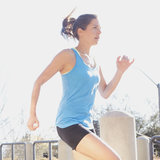 If you're looking to get a new personal record in 2016, we have a 5K training plan for you. Designed for experienced runners, the plan is full of speedwork to help you push your training pace and get that new PR (personal record) on race day. Along with tempo runs and intervals, we've added a dynamic strength-training workout to keep your legs, glutes, and joints strong to help you run even faster.
And we are here to support your speedy endeavors with running tips to improve your form, playlists to keep you motivated and on pace, and advice on nutrition and recipes to support your goals.
Check out the training plan below, print it, and get at it!
Extra Credit
Here are guides to help with your nonrunning training.
Source: Pop Sugar