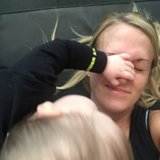 Bouncing back to red carpet shape after having a baby is no mean feat, but new mom Carrie Underwood makes it work – even when her adorable son, Isaiah, wants to cuddle. The country star, who has proven time and again that moms can get fit anywhere (including playgrounds!), shared an Instagram workout video featuring her sleepy baby.
"Sometimes we just have to make it work!" wrote the singer, and make it work she did. Even cuter than her baby-cuddling squats was her post-workout snap, also featuring Isaiah.
Anyone who's ever been around a toddler knows how real her "human jungle gym" comment is, but it doesn't stop Carrie from fitting in her daily circuit workout. So if you're ever pressed for gym equipment, maybe take a page out of Underwood's book and spend some quality time with your little one! If she's a #FitMom, you can be too.
Get inspired by more celebrity fitness snaps!
Source: Pop Sugar