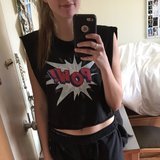 When Grace DiChristina arrived at her school's gym, she expected to go about her workout as usual. But to the Santa Clara University student's dismay, she was asked to leave because of her outfit; she was wearing a crop top that barely showed her midsection and shorts. After approaching the facility's supervisor for an explanation, she was given two less-than-convincing reasons her attire was problematic.
The first reason was that it posed a risk of contracting MRSA, a bacterial staph infection that may occur after skin-to-skin contact. If hardly an inch of one person's stomach is considered a health hazard, the school has a greater issue at hand.
The second reason was that her university is considered a Jesuit institution and her outfit was inappropriate. Not only does this justification seem exaggerated, but it's also a clear double standard. While the school's policy states, "All participants' midriffs must be covered (no sports bras; participants must wear a t-shirt or tank top)," we feel the wording of the rule exhibits a gender bias – do any men show their midriffs or wear sports bras?
She took to Facebook to express her outrage.
Source: Pop Sugar