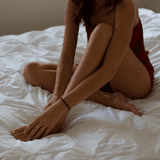 For as long as I can remember, I have had night terrors. In high school, my nightmares worsened, and I would wake up several times a week crying or sweating – or both. I wasn't just waking up terrified, I would wake up unable to move, accompanied by the horrifying feeling that someone was attacking me. I couldn't move no matter how much I tried. It was as if I would exit a nightmare only to enter a new, foggy purgatory where the plot would continue in a waking dream state. In reality, there wasn't a predator after me, but my mind was convinced there was.
When it started happening multiple times a week, I knew something was abnormal, but I didn't know how to put the sensation into words. It wasn't until a teacher discussed a famous painting, aptly called "The Nightmare," that I realized I was experiencing sleep paralysis. Immediately, I started researching the phenomenon and was fascinated by what I found. Here's what I learned about sleep paralysis and how I approached making it stop.
What is sleep paralysis?
During REM sleep, when you are deep asleep and dreaming, your body temporarily paralyzes your muscles – ostensibly so you don't act out your dreams. Sleep paralysis occurs when your brain awakens from REM sleep before the rest of your body is awake. What is so strange about sleep paralysis is that it's almost always accompanied by intense anxiety or fear. For me, that anxiety was waking from a dream where I was being chased and continuing to feel like I was being chased in my semilucid state. Some people report hallucinating demons during sleep paralysis. Another common occurrence is difficulty breathing, because people perceive something sitting on their chest. While I've experienced the hallucinations, my sleep paralysis was almost always the predator-in-pursuit scenario. I felt like I was paralyzed, panicking, for hours. In reality, it only lasts a few seconds; in rare instances I recall it lasting a few minutes.
Why does sleep paralysis occur?
While doctors have not pinpointed exactly what causes sleep paralysis, there are some hypotheses. The inescapable anxiety associated with sleep paralysis is presumably a result of your body's initial shock of waking up paralyzed. Your brain panics. A study on sleep paralysis revealed that approximately eight percent of the world's population and 28 percent of students have experienced sleep paralysis at least once. If you already have difficulty sleeping, you are more likely to suffer from sleep paralysis. But that's not the only reason you might encounter it. Substance abuse is also thought to contribute to sleep paralysis, since it disrupts your ability to enter REM sleep. It's often linked to anxiety disorders as well. People who suffer from depression or bipolar disorder report experiencing sleep paralysis more frequently than those who don't have preexisting medical conditions. The aforementioned study posits that stress also makes sleep paralysis more likely to occur.
Personally, I noticed that I experienced sleep paralysis more often when I was stressed, when I was sleeping somewhere other than my bed, when I was traveling, or if I was exhausted from built-up sleep deprivation. If I had a deadline or a test, my sleep paralysis instantly became more pronounced.
What should I do if I am constantly getting sleep paralysis?
For me, the first step toward stopping sleep paralysis was learning what was physically happening. As soon as I knew sleep paralysis was a genuine medical condition, I was able to calm myself during episodes. I would still wake up frightened and paralyzed, but I was able to look around my room and remind myself that nothing was after me. It worked sometimes, but the paralysis remained less than ideal.
After years of trying to fight sleep paralysis on my own, I met with a physician in college. My doctor had a few suggestions for me. Her first tips were not surprising: read at night, avoid screens, and don't fall asleep in front of the TV. Her second suggestion was working out in the morning rather than the afternoon; she explained that exercising later in the day might be disrupting my sleep since I would have more energy after. Her last suggestion was to try melatonin, a natural sleep aid. Much to my dismay, when I took melatonin, my nightmares actually got worse and more vivid. I'm still not sure why, but it happened every time.
As a final remedy, my doctor prescribed a sleep aid that combats anxiety and insomnia. At first I was a little hesitant to take a prescription sleep medication, after reading many horror stories about Ambien, and I didn't want to become dependent on a pharmaceutical to sleep. But when I was having a stressful week, or more anxiety than I typically experience, I would take half of the prescribed dosage and – pleasant surprise – my sleep paralysis was dormant!
As I started learning how to manage my stress more, my sleep paralysis became less frequent. I don't take the medication often, but knowing I have it works as an antidote. Though I still occasionally experience sleep paralysis, it is rare, and I'm usually able to calm myself since I understand what's happening.
Although I started taking medication as a last resort, but there are many alternative routes toward a restful night. The best advice I can offer is to try not to panic if you do experience sleep paralysis: you're not alone, there's nothing after you, and it will pass.
Source: Pop Sugar