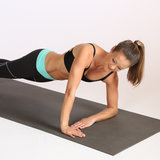 Push-ups are a mainstay of many workouts, but the basic move can get . . . well, a little boring. Here's a variation to mix it up a bit. This is great way to work your core and target your arms separately – which is always great for strengthening your non-dominant arm. Plus, this variation preps you for one-arm push-ups. I know I'd feel like a total badass if I could master that macho move.
Begin in a plank then lower your left elbow to the ground, with your forearm crossing under your chest. From this position, bend your right elbow, lowering your body to the mat.
Straighten your right elbow and continue performing push-ups in this position. Be sure to use your abs to keep your torso stable as you bend and straigthen your arm.
Do five to eight reps, then switch sides.
Related: Are You Ready For the 30-Day Push-Up Challenge?
Source: Pop Sugar