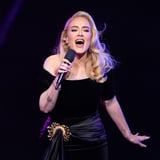 Adele opened up about her struggles with sciatica during her Las Vegas residency over New Year's weekend. In a video obtained by the Daily Star, the "Easy on Me" singer was forced to tell the audience of her condition as she had difficulty walking from one side of the stage to the other, saying "I have to waddle these days as I have really bad sciatica."
According to the NHS, sciatica is "where the nerve, which runs from your lower back to your feet, is irritated or compressed." While the condition usually improves within four to six weeks, the pain, numbing, or tingling experienced in legs, feet, toes, bottom, or back can last longer.
This isn't the first time Adele has opened up about the pain she lives with. Speaking to The Face in November 2021, the singer revealed she slipped a disc in her back when she was 15 after sneezing and slipped another one in January 2021. "I've been in pain with my back for, like, half of my life, really. It flares up, normally due to stress or from a stupid bit of posture," she told the publication.
The singer has been particularly candid with her fans during her "Weekends with Adele" shows. She serenaded her boyfriend, Rich Paul, from the stage during a performance on Dec. 16, singing the sports agent "Happy Birthday" and announcing, "I love you more than life itself." On Dec. 9, she told the crowd that she had returned to therapy. "I stopped holding myself accountable for my own behaviour and the things I would say," she said onstage. "But now I am doing it because I just want to make sure I'm topping myself up every week to make sure I can give you everything."
And it's not just personal revelations the star has been detailing either. It's likely the audience are in for some home truths, too. On Nov. 27, Adele walked amongst the audience, pausing to take a selfie with a fan only to find that a filter had been added. "What's your name, why are you using filters like that?" she said, kindly adding, "We don't look like that darling," before gently pushing the fan's hair back and going on to ask about their favorite memory from when they were younger.
While she rang in the New Year with another belter of a show, wearing a gorgeous off-the-shoulder Balmain dress we might add, it looks as though the adrenaline of performing live outweighed the sciatica struggle. Here's hoping 2023 brings the singer some relief from the pain and another incredible year of musical memories.
Source: Pop Sugar