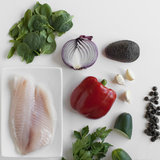 Breakfast: Almond Butter "Quesadilla"
Almond Butter Pear Breakfast Quesadilla
Ingredients
1 tablespoon almond butter

1 (8-10″) sprouted grain tortilla

1 medium pear, sliced

2 teaspoons dried cranberries

1/2 teaspoon coconut oil
Directions
Spread almond butter evenly over the tortilla. Arrange the pear slices over 1/2 of the tortilla, then evenly distribute cranberries over the top.
Fold tortilla in half.
Heat 1/2 teaspoon coconut oil in a medium skillet over medium heat and cook folded tortilla until golden and crispy, about 2 minutes on each side.
Calories: 369.1
Protein: 8.949 g
Carbohydrate: 54 g
Dietary Fiber: 10.5 g
Total Sugars: 18.4 g
Total Fat: 15.3 g
Saturated Fat: 3.257 g
Information
Category

Breakfast/Brunch

Yield

Makes 1 serving
Lunch: Turkey Meatloaf With Cucumber Salad and Grapes
Note: Eat one serving of leftover turkey meatloaf from yesterday's dinner along with one cup sliced cucumbers dressed in vinaigrette (1 teaspoon red wine vinegar mixed with 1 teaspoon olive oil) and 1 1/2 cups grapes.
Calories: 432.5
Protein: 31.1 g
Carbohydrate: 36 g
Dietary Fiber: 2.896 g
Total Sugars: 29.4 g
Total Fat: 19.6 g
Saturated Fat: 4.487 g
Dinner: Fish Taco With Black Bean Salsa
Prep: Thaw frozen chicken breast by placing it in the fridge so it will be ready to cook with tomorrow come dinner time.
Chipotle Fish Taco With Spicy Cucumber Black Bean Salsa
Ingredients
5-6 ounce cod or tilapia filet

Juice of 1 lime, divided

1/2 teaspoon chopped garlic

1 tablespoon chopped cilantro, divided

2 teaspoons olive oil, divided

1 teaspoons chipotle chili powder (could sub regular chili powder)

1/2 teaspoon cumin

1/4 teaspoon kosher salt, divided

1/4 cup black beans

1 tablespoon chopped red onion

1 tablespoon chopped red pepper

1/4 of an avocado, chopped

1 sprouted grain tortilla, warmed
Directions
In a medium bowl, combine 1/2 of lime juice, garlic, cilantro, 1 teaspoon olive oil, chipotle chili powder, cumin, and 1/8 teaspoon salt.
Add fish filet; toss to coat. Cover and let marinate at least 20 minutes, and up to 40 minutes.
In a small bowl, combine black beans, onion, avocado, and red pepper, with 1 teaspoon olive oil, the remaining lime juice, and 1/8 teaspoon salt.
Coat a grill pan with cooking spray and heat to medium-high. Add fish; cook 3 minutes per side. Flake into 1-inch pieces and add to the center of the warmed sprouted grain tortilla.
Top with black bean avocado salsa.
Calories: 490.6
Protein: 14.4 g
Carbohydrate: 65.9 g
Dietary Fiber: 15.1 g
Total Sugars: 6.344 g
Total Fat: 20.7 g
Saturated Fat: 2.977 g
Information
Category

Main Dishes

Yield

Makes 1 serving
Snack: Walnut Cranberry Trail Mix
Note: Eat the remaining trail mix left over from Day 10.
Treat: Avo Chocolate Mousse
Note: This recipe needs to cool for one hour to set, so be sure to prep it ahead of time.
Ingredients
1/3 avocado

1 1/2 tablespoons unsweetened dark cocoa powder

1 tablespoon unsweetened vanilla almond milk

1 tablespoon honey

1/2 teaspoon vanilla extract

Dash cinnamon
Directions
Combine avocado, cocoa powder, almond milk, honey, vanilla extract, and cinnamon in small blender or food processor and process until smooth.
Spoon into a small bowl and refrigerate covered to set for about 1 hour.
Calories: 160.2
Protein: 2.674 g
Carbohydrate: 26.3 g
Dietary Fiber: 5.863 g
Total Sugars: 17.9 g
Total Fat: 8.128 g
Saturated Fat: 1.608 g
Information
Category

Desserts

Yield

Makes 1 serving
Source: Pop Sugar