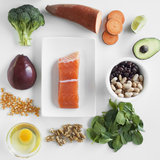 Breakfast: Quinoa, Spinach Egg Scramble
From Lizzie Fuhr, POPSUGAR Fitness
Quinoa and Egg Scramble With Spinach
Ingredients
1/2 tablespoon extra-virgin olive oil

1 teaspoon garlic, minced

2 eggs

1 tablespoon water

Pinch of salt

Pinch of pepper

1 cup spinach

1/4 cup cooked quinoa
Directions
Heat half tablespoon oil in a nonstick skillet on medium-low heat. Cook minced garlic in oil for about one minute.
Meanwhile, whisk two eggs with low-fat milk, salt, and pepper. Set aside.
Add spinach to skillet. Cook for about 30 seconds.
Pour egg mixture into the skillet. Let it sit for about 10 seconds, then start beating the eggs quickly toward the center of the pan with a wooden spoon.
When the eggs look nearly cooked, add cooked quinoa to skillet. Mix in well.
Transfer to plate or bowl and garnish with sprinkle of Parmesan.
Makes one serving.
Information
Category

Breakfast/Brunch

Yield

2 servings
Nutrition
Calories per serving

365
Lunch: Spinach Salad With Salmon
Note: This recipe uses the salmon leftover from yesterday's dinner.
Dinner: Balck and White Bean Soup and Roasted Broccoli
Notes: If you are not up for roasting, you can simply steam the broccoli and toss with olive oil.
Eat 1 1/2 servings of the recipe, and store another 1 1/2 servings for lunch on Day 11. Freeze the remaining soup in an airtight container to enjoy after you hamve completed the Clean Eating Plan.
Snack: Popcorn
Treat: Almond Milk Hot Cocoa
Source: Pop Sugar