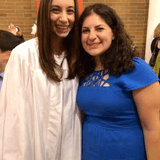 Claire always struggled with her weight growing up, but she wasn't your typical unhealthy kid. In fact, she spent a lot time living a very active lifestyle. But for Claire, she started to realize that losing weight and transforming her life was going to require a different kind of work on her end.
Claire Before
She said, "I really thought I had tried everything. I exercised a lot – I was very physically active. I thought I ate healthy. I even went to programs with medical professionals for overweight children. The issue was I was unable to recognize that it was my eating and my relationship to eating that was leading me down a path of distress."
Claire linked up with motivational health coach and founder of Break the Weight Ricki Friedman to transform her daily habits once and for all and better understand her relationship with food. They worked together as a team for five months.
"Throughout the program I really learned that my emotional relationship with food had a long history," Claire admitted. "It has been a challenge for me my whole life and honestly still is. With the program's help, I was able to recognize that challenge, face it, and decide it was time to overcome it."
Break the Weight taught Claire the power of mindfulness, support, and accountability by providing her with a very simple daily system, which included a combination of food tracking, walking, and goal setting. The daily check-ins and constant support allowed Claire to reach out for help when she needed it and look within herself. For the first time in her life, this wasn't just about losing weight. This was about changing her lifestyle.
Claire shared, "This was really the first in any of the programs that I tried that recognized the reason why I was overweight. Through a combination of great advice, hard work, and dedication, I have built up the courage to wake up each morning and tell that emotional relationship I'm ready to fight. It's now a habit of mine to look at that struggle and say, not today. Today I'm in charge."
Claire After
Sticking to the Break the Weight concept of "mindful living" and using helpful tools like MyFitnessPal and Fitbit to keep track of her daily steps, Claire was able to lose the weight and transform her life in a lot of different ways.
"Ricki really helped me to learn how to eat certain things in moderation. I try to stay away from added sugars as best as I can and eat as much fresh food as possible." Claire added, "If I slip up or indulge, I feel no need to forgive myself. . . . I'm allowed! I just know my relationship with food is one for nutrients and energy, not necessarily for pleasure, and that's OK."
Claire's Typical Day of Eating
Breakfast: I start with protein. I like eating eggs and avocados or smoothies. I really try to stay away from unnatural ingredients.
Snack: For a snack between breakfast and lunch I'll have some vegetables and hummus or some fruit.
Lunch: I generally have Greek yogurt, natural peanut butter on toast, and tuna fish – food full of nutrients but also light and easy to pack for a busy schedule.
Dinner: My favorite meal is salmon, quinoa, and vegetables. And I normally have fruit for dessert. I try to stop eating at least two hours before I go to bed each night. . . . It ensures I am ready to start my next morning off on the right foot.
How has Claire maintained her 40-pound weight loss? "Honestly, I just stuck to my system until my system became my habit and my habit became my life. When I feel myself straying away, I tell myself to get back on track. And I do. I have the power to change my life. And that's the biggest lesson Ricki really drove home with me and one I will carry with me for a very long time."
Related: Why It Took Me 5 Years to Lose 40 Pounds – Don't Make These Mistakes
Source: Pop Sugar