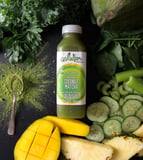 Earthy, potent, and very, VERY green: just a few of the descriptors we came across in our taste test of the Starbucks juice brand's – Evolution Fresh – Coconut Matcha drink.
Since matcha is trendy for its health benefits (think: antioxidant-rich, energy-boosting, weight-loss aid), we were dying to check out this drink we could grab on the go. The result: seasoned matcha and green juice drinkers will enjoy it, but it's probably not an ideal "matcha for beginners" drink. If you're just getting into matcha, try the citrus green tea latte or an iced matcha latte with coconut milk (if you like the taste of coconut and are new to matcha, this is a win-win).
Back to the juice: despite the name, this blend is NOT just coconut and matcha. In fact, it's got a decently long list of healthy ingredients. It might more accurately be named "Tropical Matcha Green Juice." This blend brings together coconut water, pineapple, celery, cucumber, mango puree, spinach, romaine, lettuce, kale, matcha tea powder, and parsley juice. All ingredients are organic, and at 140 calories, this drink brings in 28 percent of your potassium, 30 percent of your vitamin A, and a bit of calcium and iron.
Given the amount of powerful greens, the flavor is not a delicate one, especially if you're not accustomed to green juices in general. However, those with more juicing experience gave more positive feedback, saying "Has a strong matcha flavor, but still refreshing," and "I wouldn't drink it every day, but still good."
One reviewer noted that this blend "would be a great mix addition to a smoothie," and we agree! But if you're looking for a grab-n-go juice, I'd recommend the pineapple coconut water or the organic grapefruit juice, which is the closest to fresh-pressed in a bottle I've tasted.
<!– 1.5 –>
Source: Pop Sugar