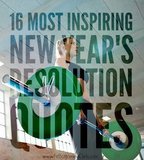 The following post was originally featured on Fit Bottomed Girls and written by Erika, who is part of POPSUGAR Select Fitness.
It's that time of year again. We've all set our New Year's resolutions and are pumped and motivated, right?! But as time goes on, we all know our motivation can decrease while the resolutions begin to just be a thing of the past (like every other year).
How about this year, along with your current resolution, you make another resolution to avoid the BS story you tell yourself to derail your goal. This year WILL be different.
We found 16 of the most inspiring New Year's resolution quotes to keep you going. Make 'em your desktop background, print 'em off and put them in places you will see them on a daily basis, or, if you're taking the Fit Bottomed Challenge, add them to your vision board!
Source: Pop Sugar