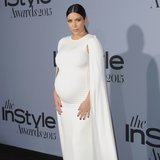 Kim Kardashian has a few things she wants to accomplish in 2016. She took to her website to share her hopes for this year – but don't call them resolutions.
"To be honest, I'm not really into New Year's resolutions. I've done them before, but I don't believe in them. I think setting little goals every month is productive and long-term goals (like saving money or learning a new language) are important, too. But I don't need a new calendar year to do that," Kim said.
Aside from shedding the baby weight she gained while carrying son Saint, Kim also wants to learn how to do the splits and plan a family vacation.
Source: Pop Sugar