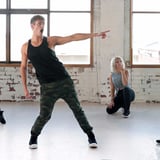 Since launching his YouTube channel in October 2014, Caleb Marshall, aka "The Fitness Marshall," has been rocking some serious dance moves and motivating thousands to get into shape. His fun, upbeat videos use the latest pop hits and pair them with his own innovative and funky choreography.
Even those of us with no dance background (or, in my case, absolutely no dance skills at all) can't help but be drawn in by his energetic, sweat-inducing, and always entertaining dance parties. Marshall's YouTube channel has over 1 million subscribers, and his new vlog channel has gained over 34,000 subscribers since it launched in July 2017. His appeal is undeniable. But who is Caleb Marshall, and where in the world did he come from?
The Fitness Marshall hails from Marion, IN, where as a kid he fell in love with all things Britney Spears and dance. During his 2017 world tour, Marshall shared that he felt very awkward as a kid and that dance was the key to self-expression and acceptance. Dance became and remains his "medicine." Marshall participated in show choir in high school, but it wasn't until he was attending Indiana University (with a major in film production) that he began to teach cardio hip-hop fitness classes. Initially the classes were an outlet for him to entertain people and channel his inner Britney Spears, but by his senior year, a career in fitness became his goal.
Marshall launched his YouTube channel in the Fall of 2014, and by graduation it already had 100,000 subscribers. His viewership steadily grew, but it wasn't until Meghan Trainor retweeted his performance to her hit song "Me Too" that Marshall truly went viral. The video received over 1 million views overnight and to date has over 7.6 million views.
What is it about Marshall that attracts such worldwide attention and adulation? The music and choreography are huge parts of his success, but it's his unconventional combination of serious dance moves paired with hilarious commentary and goofball antics that keeps fans coming back for more. He shouts out things like "Take it to church!" and "Hair flip!" and "These are called windshield wipers 'cause we're wiping those haters out of our lives."
Marshall often brings in friends or fans to help with his videos, even his Grandma Margie, which keeps his approach to his growing fame very down-to-earth. He dubbed his backup dancers "backup booties," and the two ladies he tours with just happen to be friends from high school. His boyfriend, Cameron Moody ("Moody Booty"), films his videos and manages Team Fitness Marshall.
Fans love that the Fitness Marshall is 100 percent himself, unapologetic about things he loves (namely Britney Spears, the color aqua, and Starbucks coffee), and passionate about his message of inclusivity and self-acceptance. At the beginning of his live shows, Marshall often coaches women to defy society's expectations and to be comfortable unleashing their inner divas. Thousands of fans have responded in the affirmative. What began as a career has turned into a fitness outreach program.
Comparisons have been made between Marshall and his predecessor in the field of dance-based cardio: Richard Simmons. Marshall takes it as a compliment and has even called himself a fusion of Simmons and Britney Spears. Both men have made a career for themselves by reaching out to people of all shapes, sizes, ethnicities, and fitness abilities. According to Marshall, he wants The Fitness Marshall to be a safe place for people to be themselves.
For those fans itching to have The Fitness Marshall experience in person, the team is currently on tour in the US, with a few Fall dates still open for his "cardio concerts." Fans can also book private events through his website.
Other than touring and becoming what he has termed a "fitness pop star," what else could be on the horizon for this supersonically talented 24-year-old? Marshall has said he would love to perform at more venues worldwide and has his sights set on the Super Bowl someday (yes, please!). He'd also like to include artists in his videos . . . his main target being Britney Spears, of course.
If The Fitness Marshall can motivate the choreographically challenged to dance (e.g., me), he can motivate anyone. I dare you to try one video. At best, you'll be hooked; at worst, you'll be greatly entertained. Booties in the house!
Source: Pop Sugar