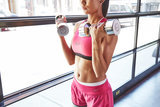 The following post was originally featured on Peanut Butter Fingers and written by Julie Fagan, who is part of POPSUGAR Select Fitness.
I am psyched to share this workout with you guys today! It's a fun one (yes, even with burpees) and starts out tough with three minutes of non-stop work for the first round. The time spent in each circuit decreases by one minute for each subsequent round for three total rounds.
I completed this workout during Chase's naptime and it only requires one set of dumbbells. It's a quick workout but seriously challenging thanks to plyometric exercises that made me sweat like crazy and challenging upper body exercises.
You'll notice that the number of reps you're completing stay the same. Keep things simple, but focus on form and challenge yourself! Each circuit pairs an upper body exercise with a super-sweaty plyometric exercises that will get your heart rate up! Take breaks as needed and honor your body. If you keep things moving and give yourself a one-minute break at the end of each round, this workout should take you approximately 20 minutes to complete.
Below you will find exercise demos of each exercise in the three circuits.
Source: Pop Sugar