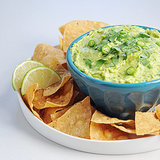 Looking for the perfect Super Bowl party snacks, but worried about the guilt that follows? Thankfully, dietitian Julie Upton, MS, RD, of Appetite For Health, is here to offer eight different guilt-free snack ideas that will help you score major points with your friends and family this weekend.
Will you be tuning in to watch Super Bowl XLIX as the New England Patriots take on the Seattle Seahawks for the title of world champions? If so, you'll want to avoid racking up too many (nutrition) penalties from typical football foods like chips and dip, wings, pizza, and beer. These football faves can easily pile on more than 2,500 calories – more than you need in an entire day! – and leave you feeling like a 300-pound NFL lineman.
Below are eight of my favorite Super Bowl bites that will be part of my game-day menu:
Fresh veggies: I always serve a large tray of veggies with healthy dips during the game to help fill me up, not out. Most veggies have fewer than 50 calories a cup compared to 150 calories in regular potato chips. Baby carrots, celery, cherry or grape tomatoes, broccoli, jicama, and bell peppers are some of my faves.
Better chips: It's not game day without crunchy nibbles, so I buy better munchies that have fiber and protein. To shave about 30 calories per ounce (15-20 chips), opt for baked instead of fried. For a tortilla chip, I like lentil- or bean-based options or Lundberg Multigrain chips because they provide some fiber and protein compared to other chips; for pita chips, look for one made with whole grains.
Skinny dips: Most cheese- or sour-cream-based dips will blow your calorie budget and pile on a lot of unhealthy saturated fat. I serve black bean dip and hummus, which provide protein and fiber and keep saturated fat low. For example, Sabra Classic Hummus has just 35 calories and less than a gram of saturated fat per tablespoon compared to nearly two grams of saturated fat in a tablespoon of regular sour cream. I also use hummus for a stand-in for mayo on sandwiches and when making deviled eggs.
Holy guacamole!: This year, Americans will devour a record number of fresh avocados – 240 million – during Super Bowl week. That's fine by me, as I'll be enjoying plenty of guacamole too. A tablespoon of guacamole has about 30 calories and 2.5 grams of fat, most of which is beneficial monounsaturated fats. To make, here is my favorite guac recipe.
Buffalo-style "wings": According to the National Chicken Council, Americans eat more than 1.25 billion wings while watching the big game – that's enough wings to cover the distance from Seattle to Foxborough, MA, nearly 28 times. Since the average fried wing with ranch or blue cheese dressing will set you back about 125 calories, I save hundreds of calories by making grilled or broiled "buffalo-chicken strips" by coating strips of boneless skinless chicken breast in a hot buffalo sauce then baking or grilling the chicken.
Salad pizza: It won't be game day without pizza, but did you know that just two slices from some delivery chains set you back nearly 600 calories? I make my own lighter pizzas with a store-bought whole-wheat crust that I bake with fresh mozzarella, red onion, and olives. Once baked, I top it with a fresh arugula salad.
All-star sips: One thing I try to live by is limiting liquid calories, because research shows that you don't compensate for beverage calories by eating less food. Since alcohol stimulates appetite, I try to steer clear. Come game day, I'll be drinking fruit-infused sparkling water.
One-bite desserts: For a sweet finisher, I look for dark-chocolate-covered almonds and one-bite brownies and cookies. Not necessarily guilt-free, but better than many typical choices.
Game on!
Source: Pop Sugar