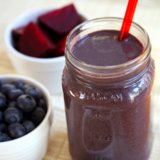 Smoothies for breakfast can absolutely help you lose weight, but only if they follow the low-calorie, high-fiber, high-protein formula. And guess what? For your smoothie-sipping pleasure, this naturally sweet and creamy breakfast fits the bill to a T. At 400 calories, this smoothie offers 12.5 grams of filling fiber, and a whopping 34.5 grams of protein.
Why beets? Why not? Their vibrant color lets you know they're bursting with immune-boosting antioxidants. They offer fiber, protein, calcium, and tons of potassium. Add in some baby kale for extra fiber and a boost of vitmans A, K, and C, some bueberries for even more fiber and their ability to diminish belly fat, and a little banana for even more potassium. Chocolate protein powder and metabolism-boosting cinnamon add extra sweetness, and the almond milk ups the calcium levels. Finish the ingredients list off with shelled hemp seeds, which are a great source of both omega fatty acids and protein.
As if the health benefits weren't enough, this smoothie just looks so gorgeous! It's sure to brighten your mood and give your regular ol' green smoothie a run for its money.
From Jenny Sugar, POPSUGAR
Beet Blueberry Chocolate Protein Smoothie
Notes
I found packaged cooked and peeled beets from Love Beets at the store, which made this recipe a cinch to whip up.
Ingredients
2 large cooked beets (or 3 small)

1 cup baby kale

1/2 cup frozen blueberries

1/2 frozen banana

1 scoop chocolate protein powder (I used Vega)

1/2 teaspoon cinnamon

1 cup unsweetened almond milk

1 tablespoon shelled hemp seeds

3 ice cubes
Directions
Add all the ingredients to your blender and puree for one minute or until smooth.
Enjoy!
<center Source: Calorie Count
Information
Category

Drinks, Smoothies

Yield

1 serving

Cook Time

5 mins
Nutrition
Calories per serving

402
Source: Pop Sugar