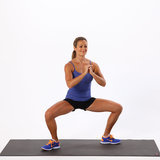 Making it to the gym for a complete workout isn't always possible with our crazy-busy schedules, so you've got to squeeze a few minutes of exercise in here and there whenever you can. Taking the stairs instead of the elevator, parking in the farthest parking spot, and doing push-ups on the counter after bathroom breaks are great ways to feel like you're doing something when you can't make it to the gym.
Another easy idea? Do squats while brushing your teeth. This gives you two minutes straight, twice a day, to work your booty when you otherwise would just be standing there zoning out. Try these different variations:
Or try this two-minute workout specifically devoted to teeth-brushing time. Two minutes is definitely enough time to feel the burn in your booty and thighs. So the next time you brush your teeth, blow-dry your hair, or chat on the phone, use those few minutes wisely, and get squatting!
Source: Pop Sugar