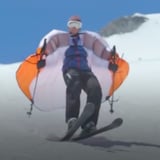 See how you can catch crazy air on the slopes this season.
Source: Pop Sugar
While most of us strive to hit our daily count of 10,000 steps, snow artist Simon Beck puts our goal to shame. The Somerset, England, native averages about 5,000 steps in an hour, not to mention in snow shoes. Specializing in geometric designs, Simon begins by drawing it out in his head or out on…
Whether you click into skis or a snowboard, a strong yet flexible lower body will allow you to cruise down the mountain with control, helping you stay balanced rather than wiping out. This eight-posture lower body sequence focuses on strengthening the core, quads, and glutes while opening the hamstrings and hips.
Source: Pop Sugar