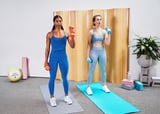 If you want to start lifting weights more often but have no idea where to start, we've got you covered. We created this one-week beginner weightlifting routine that takes all the guesswork out of planning and organizing your workouts. That way, you can tackle weightlifting with confidence, whether you're working out in your home or the gym. Even though we designed this weightlifting plan for beginners, you can easily scale it up or return to it even if you're a seasoned lifter.
To complete this weightlifting workout plan, you'll need medium-weight dumbbells, a mini resistance band, and a workout mat. (Check out this guide if you need help choosing the right weight.) And FYI: even though this plan is dedicated to weightlifting, there's some cardio in there, too. After all, doing cardio is important because it offers so many health-boosting benefits of exercise, such as improved heart health, better sleep, and better cognition, according to the American Heart Association.
Ahead, you'll find instructions on how to do each day's workout from this beginner's weightlifting workout plan, along with tips for customizing each one for you. (Don't forget to warm up before every workout and cool down afterward to avoid muscle soreness, too.) To see results from any workout, you need to be consistent, so we suggest following this program for four weeks. After that, start to increase your weights or graduate to tougher movements so you can keep challenging yourself.
– Additional reporting by Lauren Mazzo and Angelica Wilson
Source: Pop Sugar